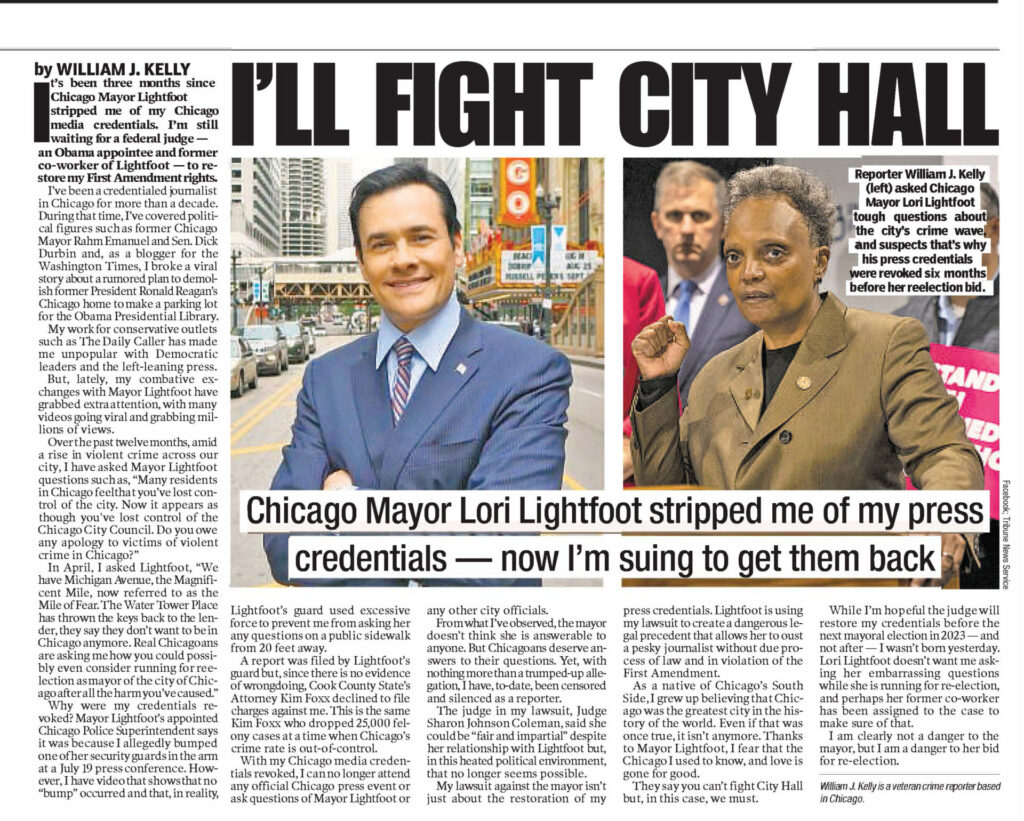 It's been three months since Chicago Mayor Lightfoot stripped me of my Chicago media credentials. I'm still waiting for a federal judge – an Obama appointee and former co-worker of Lightfoot – to restore my First Amendment rights.
My work for conservative outlets such as The Daily Caller has made me unpopular with Democratic leaders and the left-leaning press. But, lately, my combative exchanges with Mayor Lightfoot have
grabbed extra attention, with many videos going viral and grabbing millions of views. Over the past twelve months, amid a rise in violent crime across our city, I have asked Mayor Lightfoot questions such as, "Many residents in Chicago feel that you've lost control of the city. Now it appears as though you've lost control of the Chicago City Council. Do you owe any apology to victims of violent crime in Chicago?"
Why were my credentials revoked? Mayor Lightfoot's appointed
Chicago Police Superintendent says it was because I allegedly bumped
one of her security guards in the arm at a July 19 press conference. However, I have a video that shows that no "bump" occurred and that, in reality, Lightfoot's guard used excessive force to prevent me from asking her any questions on a public sidewalk from 20 feet away.
A report was filed by Lightfoot's guard but, since there is no evidence
of wrongdoing, Cook County State's Attorney Kim Foxx declined to file
charges against me. This is the same Kim Foxx who dropped 25,000 felony cases at a time when Chicago's crime rate is out-of-control.
With my Chicago media credentials revoked, I can no longer attend
any official Chicago press event or ask questions of Mayor Lightfoot or
any other city officials. From what I've observed, the mayor
doesn't think she is answerable to anyone. But Chicagoans deserve answers to their questions. Yet, with nothing more than a trumped-up allegation, I have, to date, been censored and silenced as a reporter.